Old Friends Recognize Homeless Man And Give Him A Place To Live
October 30, 2019
A man who spent more than two decades on the streets now has a place to live thanks to some old friends from middle school.

Credit: KVUE
Coy Featherston, 66, said he became homeless in the 90s after a string of unfortunate circumstances in Atlanta. Over time, Featherston made his way to the Austin area, where he slept in the doorway of the St. Austin Catholic Church near UT's campus.
This is where Leea Mechling, an old friend who said she knew him from middle school, comes in.
Mechling recognized Featherston in a photo in a local newspaper.
"I saw my friend and I just couldn't leave him out there," Mechling told KVUE.
She drove around every day until she finally found him.
"He was right there in front of the church feeding the pigeons," said Mechling.
Featherston said he instantly recognized her. After a hug and some catching up, Mechling took Featherston to her home, where she then told other old friends. She said they all instantly stepped in to help and some friends came over right away with new clothes.
One of those old friends, Don Vanderburg, is letting Featherston live with him until he can get back on his feet.
They also launched a GoFundMe page which has raised over $18,000.
"Up until a few weeks ago he was living on the street in Austin as a homeless person," Patrick Judd wrote on GoFundMe. "He had no food, no shelter, no friends, no hope and no love. How all this started is that a newspaper article last week by the Austin American Statesman on the homeless used a photo of Coy and identified him in the caption. That alerted a number of us to his plight and within a day or so Leea Meckling went and found him and offered her home to Coy for a number of days. For most of us we haven't seen or heard from Coy in over 20+ years!! Alot of us discussed what to do next and that finally led to me suggest starting this GoFundMe campaign to get him back on his feet again."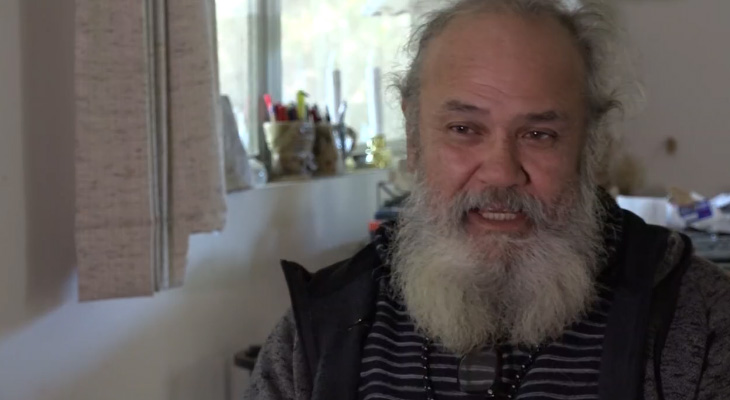 Credit: KVUE
For Featherston, it's a dream come true to have a new beginning.
"Maintain connection with good friends because you're gonna need 'em one day," said Featherston.
---
AllHappyNews is free for users. If you'd like to support our cause of spreading good, please consider a small donation to aid in website costs by visiting here: DONATE
---